Recent graduate publishing success
Congratulations to Dr Farzana Gounder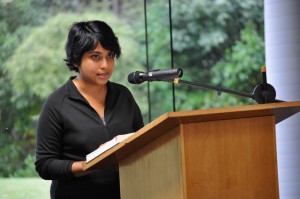 Dr Gounder who graduated last year with a PhD in linguistics, celebrated the publication of her first book, Indentured Identities: Resistance and Accommodation in Plantation-era Fiji this week. Joining the prestigious series, Studies in Narratives, Farzana's doctoral work is sure to reach a wider audience. The Series editor Michael Bamberg was the external examiner who contacted Farzana on the day of her oral defence. Farzana's book examines the narrative performance of the last Girmityas – or indentured labourers who arrived in Fiji in the decades around the turn of the 20th century to work the sugar plantations. Her analysis shows that Girmitya had a considerably wider range of responses to indenture than many historians will credit, and use narrative techniques strategically to foreground or down play their own roles, and abilities to influence the events around them at different times. The function at International Pacific College was well attended and it was great to see the many former and current students of School of Linguistics and International Languages Studies celebrating alongside Farzana's success.
News from
http://www.massey.ac.nz/massey/learning/departments/school-linguistics-international-languages/school-news/recent-graduate-publishing-success.cfm