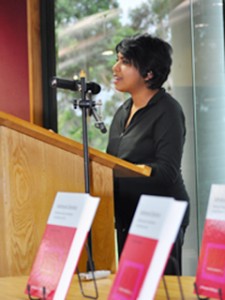 On Wednesday 1 February, IPC had great pleasure in celebrating the launch of a book written by one of its lecturers, Dr Farzana Gounder, as an outcome of her Doctor of Philosophy studies at Massey University. The event was attended by Farzana's family, friends and colleagues as well as supervisors and colleagues from Massey University and the wider Palmerston North community.
The book, Indentured Identities, resulted from a book contract following the successful completion of Farzana's PhD in late 2011. Dr Gounder explored the "themes of indenture, migration and identity formation" of cases taken from some 45,000 Indians who went to work in Fiji between 1879-1916, mostly on sugarcane plantations, and then chose to settle there. The book was published in USA.
One of Dr Gounder's PhD supervisors, Dr Martin Paviour-Smith, commented that the book "has been published in the most prestigious series of books on narrative studies." This came about when Professor Bamberg of Clark University (USA), "the leading expert on a particular kind of narrative analysis," made contact to offer Dr Gounder a book contract. Dr Paviour Smith explained that narrative "is important to understand who people are and how they present themselves and what they do with their stories" and Indentured Identities succeeds in this respect.
In her book, Dr Gounder explains the childhood memories that led her to study the life narratives of the Girmityas:
"My journey with these Girmityas' life narratives began when I was seven years old. In my earliest memories of visiting dādī, I see us all sitting, and listening, the Girmityas' voices entering the house through the large speakers on either side of a silver rectangular box as we drink hot milky tea. The radio had pride of place in my grandmother's living room, where the television now sits. We listened to the Girmityas recollecting their experiences, which they did with sometimes laughter, sometimes tears, and at other times with anger, bitterness, or resignation.
It was a time when Fiji Indians were searching to define who they were, a hundred years after the first Girmityas arrived in Fiji. As our family's history with Fiji began with Girmit, we would listen to the life narratives with great interest, after which came the adults' critique. This was the only time that I heard the life narratives, until I began this study twenty-one years later. But although I did not hear them again, the Girmityas' narratives whispered to me through my memories".
Farzana commented to the audience, "The theme of migration probably resonates with us all because either we ourselves are migrants or we are children or great grandchildren or grandchildren of migrants."
Indentured Identities: Resistance and accommodation in plantation-era Fiji, published by John Benjamins Publishing Company, USA, 2012.
Dr Gounder is a Lecturer in the Bachelor of International Studies degree programme at IPC.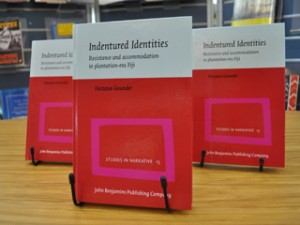 From
http://ipc.ac.nz/news-and-events/a-new-book-by-dr-farzana-gounder/